Product News
EqualLogic PS Series – Enterprise power with everyday simplicity
Dell™ EqualLogic™ storage solutions continue to provide enterprise power with everyday simplicity, giving you built-in advanced software features with zero licensing fees. EqualLogic is designed to virtualize storage environments easily, protect business critical data, optimize storage performance, and streamline storage management and operations – for organizations of every size.
Advanced software features include:
· EqualLogic SAN Headquarters (SAN HQ), a full featured monitoring and analysis tool for EqualLogic PS storage arrays, helps strengthen your ability to analyze and optimize storage performance and resource allocation.
· EqualLogic Host Integration Tools, enable efficient data protection and simplify management and operation of the EqualLogic SAN through tight integration with Microsoft®, VMware® and Linux® host operating platforms and host applications. These tools reduce the time spent on storage management while increasing the reliability and performance of the environment.
What's new in SAN HQ 2.2? New multi-site support in SAN HQ 2.2 enables consolidated view of data centers distributed across different geographies. SAN HQ 2.2 provides ongoing, realistic, real-time diagnostic information to allow IT managers to optimize and tune systems for performance and efficiency with new features like Live View, Normalized View, RAID evaluator and Group diagnostics.
Advanced feature enhancements include:
· Multi-site support
· Group Diagnostics report
· RAID Evaluator
· Normalized view reporting
· Live View
· Support for EqualLogic Firmware v5.1 features including Audit logs and DCB Configuration
What's new in Host Integration Tools for Microsoft 4.0? EqualLogic Host Integration Tools for Microsoft tightly integrates the EqualLogic PS Series arrays with Microsoft host operating platform and host applications enabling consistent data protection and more efficient management of multiple Microsoft hosts and VMs. Enhanced Clustered Shared Volume (CSV) support is designed to streamline data protection for CSVs and improve capacity utilization.
Feature enhancement include the following:
· Centralized data protection through HIT Groups
· Enhanced Clustered Share Volume (CSV) Support
· Richer usability and functional experience
· Remote Installation & Upgrade Capability
· Enhanced PowerShell Tools
· Proactive Alerts
Watch This Video to learn more about HIT/ME 4.0
Did you know these advanced software features are included in the purchase of your EqualLogic SAN? If you have a valid Dell ProSupport agreement, all of the Dell EqualLogic advanced software features (including all of the new releases) are at your fingertips.
EqualLogic FS7500
Dell™ EqualLogic™ Unified Storage solution, which is based on PS Series arrays and the FS7500 NAS appliance, is generating strong customer interest with deployments underway or planned in over 100 data centers around the world. EqualLogic based NAS and unified storage is proving to be particularly useful for user shares and home directories in education. Not surprisingly, several major universities throughout Europe, North America and the Asia Pacific region are using this solution to manage their rapidly growing block and file data storage needs.
Upcoming Events

Dell Stroage Forum Boston 2012
Dell Storage Forum is the industry's premier storage conference for Dell Storage customers and channel partners. Built to reflect the tenets of our portfolio, the 2012 event promises a fluid by design experience—optimized with premium content to help you make the most of your time.
Unlike any other conference, Dell Storage Forum lets users test-drive the latest features, interact with Dell experts and walk away with actionable insights on how to shift from managing IT operations to enabling innovation in your data center. Don't miss the storage event of the year. Register today!
Want a preview of the type of session content that will be offered? Check out the Dell Storage Forum London agenda (customers, channel partners).
What's in Store
Executive keynotes – hear Dell executives discuss the strategy behind Dell Storage, our vision for the future, our growing partner sales channel and joint innovation with leading technology alliance partners.
Technical deep dives—choose from dozens of breakout sessions across multiple concurrent tracks, including Compellent, EqualLogic, PowerVault, DX, Networking, Virtualization & Applications, and Data Protection & Retention.
Instructor-led training—engage in interactive education on various aspects of Dell Storage during optional premium classroom training sessions held after the core conference.
Hands-on labs—test-drive the latest Dell Storage functionality and alliance partner integration at your own pace in a live production environment, with experts available to help you navigate and answer questions.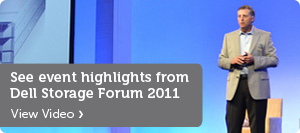 Best Practices

Certified EqualLogic FS7500 PowerConnect Reference Configurations
This configuration based on Dell's EqualLogic FS7500 Clustered network-attached storage (NAS) provides a unified and fully redundant storage solution for Windows and Linux Servers. It provides File (CIFS/NFS) and Block (iSCSI) storage that can grow together with your needs using one or more of our EqualLogic arrays (all families supported).
Download